#1 Nationally Ranked Herriman Boys WIN Woodbridge and Bob Firman Invites! Boys Qualify to NXN for the 2nd Year in a row!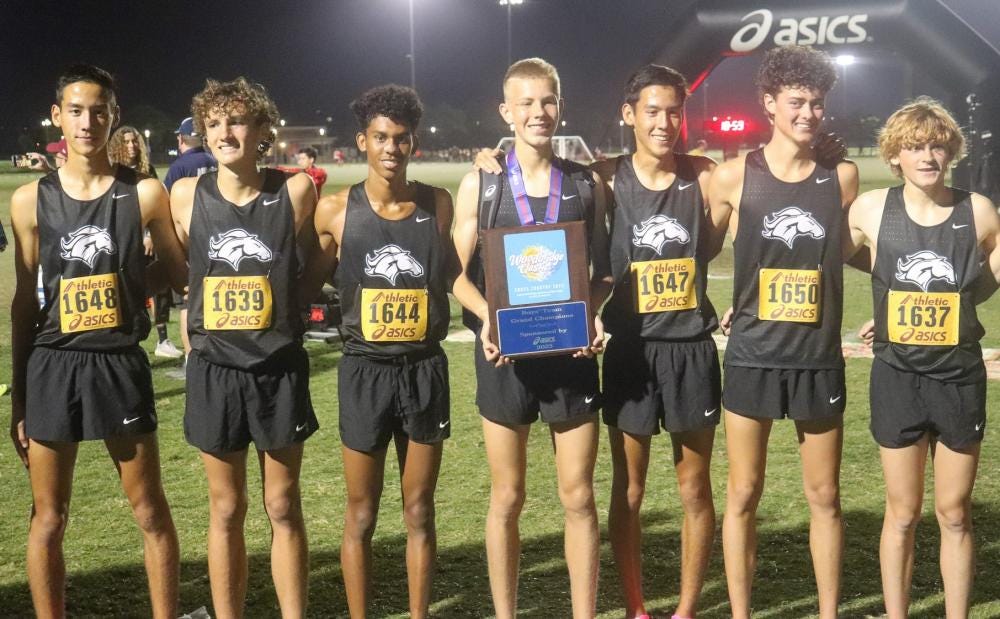 2023 Herriman
Cross Country
2023 Cross Country begins on June 5th! Sign up and come be a part of our special team! Summer Cross Country will have 7th-12th graders! Please sign up below and bring your Waiver to your first practice and you are good for the summer season.


2023 Mustang Cross Country "In the News"
Camp Time Trial - June 26th - Results
The 2023 Camp Time Trial was full of excitement as all athletes competed for coveted spots at cross country camp! William Steadman showed why he will be on of the best in Utah this season with a stellar record performance of 12:13! On the girls side, Sr. Rachel Crosby threw done an impressive performance in a record 15:40 to win the girls race! Autumn Wardle and Kenny Briggs shined in the mile races! Congrats to our 2023 Camp Qualifiers!
Color Wars - August 4th - Results
2023 Color Wars was another fun adventure into competition in XC! The culmination of which is a 1 mile race for our Soph and below athletes for the summer. The boys race was a 3 way affair between Soph Bryce Runnells, Frosh Kenny Briggs, and Soph Caleb Brown! Kenny led the first 800, but Bryce made a big move to secure the win in 5:09, with Kenny 5:13, and Caleb 5:21! The girls were led by soph Lindsey Gerhart in 5:51, and Soph Breelyssa Leeper at 6:00! Overall, the Red Team pulled off the come from behind victory to become Color Wars Champions!
Premier Invitational - Aug 12 - Results
The Premier Invite was another amazing start to the XC Season! The boys varsity put 6 guys in the top 10, led by Sr. William Steadman's 14:58 1st place performance! Tayshaun Ogomo showed he is ready to run with the big dogs this year, placing 2nd overall! The JV boys team had another dominating performance, scoring a perfect 15 points. They were led by 11th grader Micah Tang's 15:58!

The varsity girls team ran strong with a top 10 finish by Alayna Wardle in 18:47! Breelyssa Leeper and Rachel Crosby gave the Mustangs a strong top 3, and a 2nd place overall for the meet. The JV girls performed well, with Sr. Avery Sortor finishing 2nd place!
UIAAA Invitational - Aug 26 - Results
This year's version of the UIAAA Invite went a lot more according to plan, with most athletes not suffering an illness like they did in 2022. Saylor Warner started us off with a great top 10 finish in the Frosh/Soph Girls race! Bryce Runnells led the deep and talented Frosh/Soph boys with his individual win with over 380+ athletes in the race!

In the Varsity Girls race, the girls improved by 3 and half minutes over last year to move up to 5th place overall! Superstar Soph Breelyssa Leeper led the way with a 27th place finish, and Sr. Alayna Wardle kicking for 29th! The highly anticipated boys race didn't disappoint, with all 7 boys finishing in the top 16! Will Steadman finished 2nd, Tayshaun Ogomo 6th, and Max Hofheins 8th to have 3 in the top 10!

In the JV girls race, our top 3 girls all ran fast enough to be varsity girls last year! Rachel Crosby tempo'd to the win, coming off a fall at the Premier Invite. She will move back to varsity for Timpanogos. Amazing top 10 finishes by Kira Willis and Zanna Bruening as well! In the boys race, it was a perfect sweep of the top 5 spots, with Jack Beckstrom running a time that saw him finish top 18 overall. Noah Manwaring, Jonny Cannon, Nathan Wardle, and Isaac Moore finish out the perfect score of 15 points!
Timpanogos Invitational - Sept 1 - Results
W
Utah Pre-State - Sept 13 - Results
k
Woodbridge Invitational (CA) - Sept 16 - Results
k
TwiKnight Invite - Sept 23 - Results
T
Region III Championships - Oct TBD - Results
T
Divisionals - Oct - Results
Alayna Wardle runs a great race to lead the girls team to the State Final! The girls finished 3rd in their heat and have a great chance at a podium finish at State.

A big final push from Jack Beckstrom led to a tight pack finish of just 12 seconds for all 7 guys for Herriman, who went 2-8 in their heat to secure a low score of 20 points in winning their heat.

On to State!
Utah 6A State Meet - Oct 24 - Results
A
JV State - Oct 28 - Results
E
Pre-Footlocker Race - Nov 4 - Results
A
Content from YouTube can't be displayed due to your current cookie settings. To show this content, please click "Consent & Show" to confirm that necessary data will be transferred to YouTube to enable this service. Further information can be found in our Privacy Policy. Changed your mind? You can revoke your consent at any time via your cookie settings.
Consent & Show
Coaching Staff
Meet our amazing Coaches!
Herriman Cross Country Schedule
Click the button below for our 2023 Cross Country Schedule
Content from Instagram post can't be displayed due to your current cookie settings. To show this content, please click "Consent & Show" to confirm that necessary data will be transferred to Instagram post to enable this service. Further information can be found in our Privacy Policy. Changed your mind? You can revoke your consent at any time via your cookie settings.
Consent & Show
Congratulations to the Legendary Herriman athletes that were able to win the Utah State Individual Title!
State Champ: Lucy Biles
2014 - 5A
2013 - 5A
2012 - 4A
State Champ: Addi Bruening
2021 - 6A
2022 NXN - Herriman Boys - 3rd Place
Every set of LEGENDS has an origin story, and ours begins in 2022! This unheralded group started this season with little expectation on them for national success, but worked hard and put together an amazing season! Some highlights were winning the Timpanogos Invite and the Woodbridge Invitational (CA), and finishing 2nd at NXR! The boys put it all together at Nike Cross Nationals to finish 3rd in the nation!

Noah Jenkins - SR - 16th
William Horne - SR - 21st
Jack Beckstrom - JR - 67th
Luke Briggs - SR - 84th
Ryland Garner - SR - 106th
Max Hofheins - JR - 107th
Hyrum Wood - JR - 148th
Content from YouTube can't be displayed due to your current cookie settings. To show this content, please click "Consent & Show" to confirm that necessary data will be transferred to YouTube to enable this service. Further information can be found in our Privacy Policy. Changed your mind? You can revoke your consent at any time via your cookie settings.
Consent & Show